Biography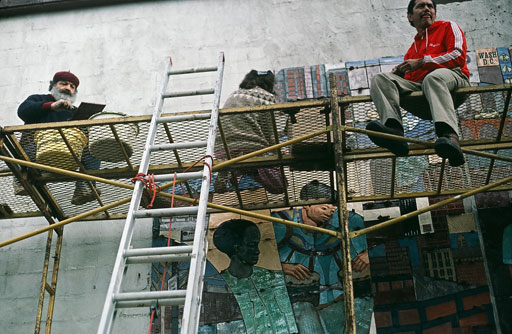 J udith Inglese grew up in New York City. From an early age she loved working with her hands and wanted to be an artist. With the encouragement of her parents, she explored various media: wood and welded sculpture, glass and metal screens, and off loom tapestries. While still a teenager, she worked as a freelance toy designer for her father Frank Caplan, an early childhood educator and toy maker. Later, she designed covers for children's records.
But her love of clay, with which she played as a young child, led her to ceramic murals. Tile making was a way of working incrementally, while fabricating larger artworks that could be incorporated into public spaces and buildings. She became committed to the importance of public art in creating community and personalizing space, seeking to create murals that were accessible to everyone.
Since 1973, she has created commissions for a variety of public use spaces, including libraries, schools, hospitals, senior centers and other municipal and institutional buildings, such as the National Zoo in Washington, D.C. She has collaborated on projects with her husband, architect Tullio Inglese, and completed commissions for public murals throughout the United States and abroad. Additionally, she has been involved in mural-making projects at Taina Women and Children's Pottery Collective in Vieques, Puerto Rico, and with families of hospitalized and terminally ill children at Baystate Medical Center in Springfield, Massachusetts.
Judith trained at the Accademia di Belle Arti in Rome, Italy, the Boston Museum School of Fine Art, and Sarah Lawrence College in Bronxville, New York where she received her Bachelor's Degree. As a student at Sarah Lawrence, she was memorably encouraged by her art professor to go as far away from New York City as possible in order to more freely develop her individual craft. She ended up in the serenity of Leverett, Massachusetts, where she currently lives with her family, two dogs, and more than a handful of chickens.
Curriculum Vitae
Judith's curriculum lists all of her murals.